Quality policy and environmental policy
Always go first in terms of quality
Saigon Manufacturing and Trading Joint Stock Company (SMC) has the ambition to become the No. 1 commercial producer and supplier of concrete in Vietnam.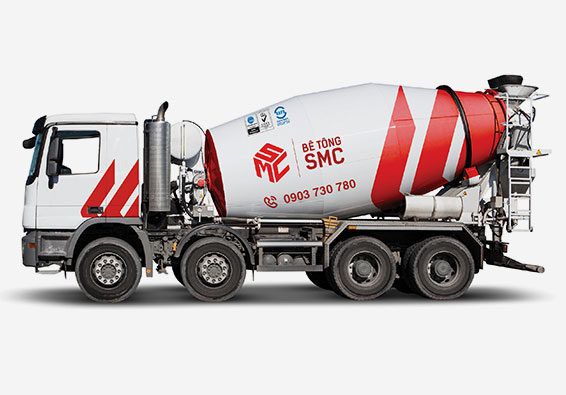 We always produce and supply high quality products to meet the needs and expectations of our customers.
Always improving the quality, delivering the right quality, in the right quantity, at the right place and on schedule.
Always improving products, researching and developing new products, diversifying products to bring customers access to new technology.
Training and coaching staff periodically to provide the necessary professional skills, good service to the requirements of the job, to meet customer requirements..
We believe that through our commitment to continuous quality improvement, our quality management system, our continuous efforts to improve our employees, and our sustainable cooperation with our strategic suppliers, will help SMC. Achieve high efficiency in business.
Quality policy is disseminated to all employees. This policy will be reviewed periodically and may change to suit the orientation of the business.
The technology is in use
SMC Concrete Batching Plant
SMC Concrete Batching Plant is invested synchronously by Italian technology (EUROTEC), the mixing stations are controlled by automatic control system by computer software and machine system. The total capacity of the mixing plants is 960 m3 / h, including:
Three stations in Tan Tao Industrial Park have a total capacity of 360 m3 / h.
Two stations in Thu Thiem peninsula with a capacity of 240 m3 / h.
Three stations in the expanded Tan Kim Industrial Park and Tan Duc Industrial Park with a total capacity of 360 m3 / h
This is an automatic production line with an accurate weighing system for aggregate weight, Cement, Sand, Stone, Water and Additives for concrete mixing. The weighing process of the system is accurate with controlled errors. The mixing station includes a data management system for storage and printing to check all parameters of input materials and signal for each weighing and discharging.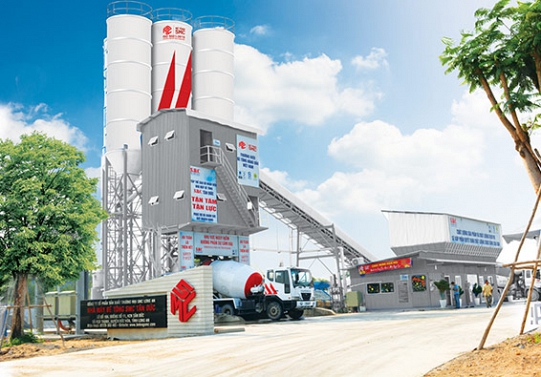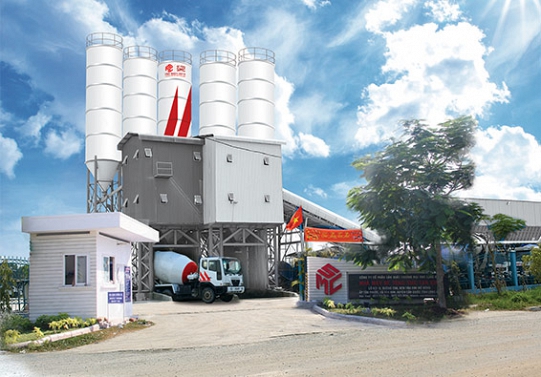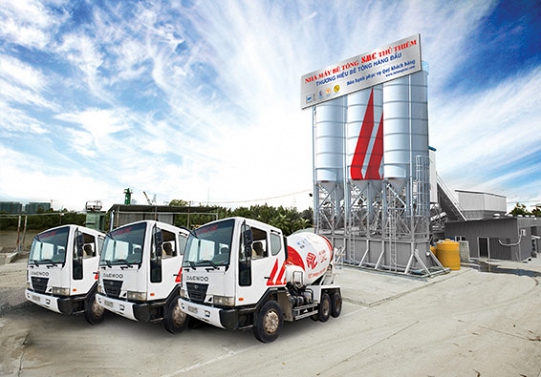 Modern GPS system for tank trucks
The most advanced and modern tank truck system. All vehicles are equipped with GPS systems to assist with movement and tracking.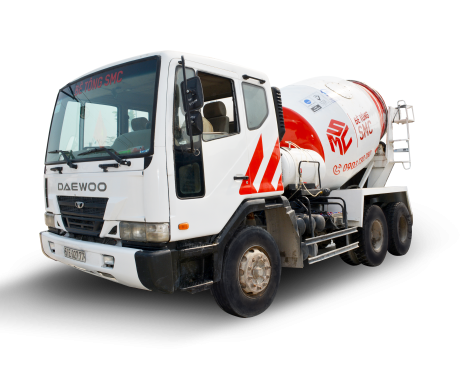 Weighbridge system in concrete plants
Helps to accurately measure and control the volume of commercial trucks, material and concrete tank trucks.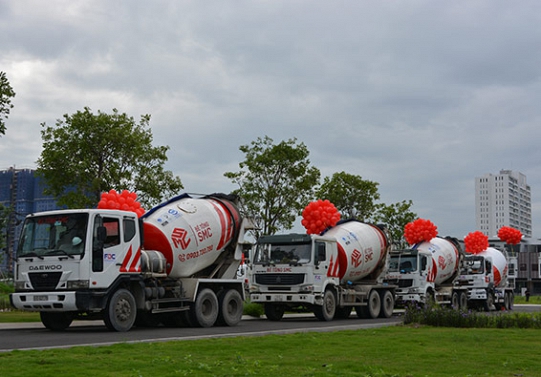 Human resources technical department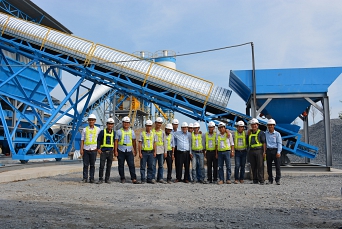 Engineer team
A team of skilled workers, professionally trained before being put into production operation.
Quality management system
Advanced quality management system compliant with ISO 9001: 2015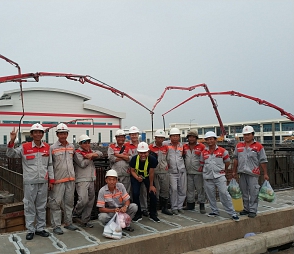 Team of workers
A team of skilled workers, professionally trained before being put into production operation.
Equipment at the technical department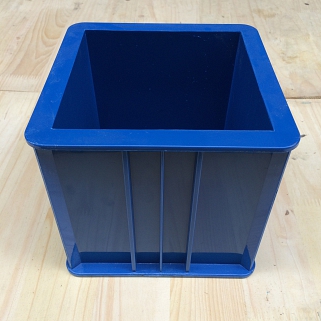 Mold casting
Manufactured for use in the manufacture of concrete samples for testing. Molds are manufactured synchronously, ensuring the requirements of hardness as well as durability during use.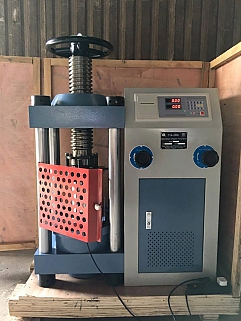 Concrete sample compressors
Concrete sample compressors are devices used for testing concrete compresses, compressing cement samples, compressing bricks and compressing other construction materials, etc., in order to test durability, bearing and quality. amount of material.
Input Materials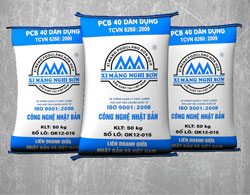 Nghi Son Cement
High quality and stability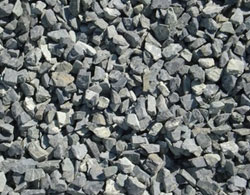 Raw aggregate
High quality and stability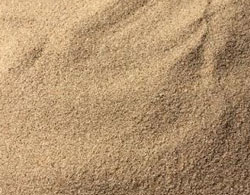 Fine aggregate grain
High quality and stability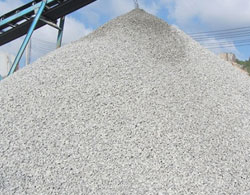 Sand crushed
High quality and stability
Quality assurance policy
Always putting the expectations of our partners and stakeholders at the top of our strategic plan, we uphold the policy of strict adherence to all regulations and procedures to ensure the application of the highest standards of quality. quality and integrity in all products and services.
We have implemented the process of operating quality management in accordance with ISO 9001: 2015 to ensure to meet customer requirements as well as comply with government regulations. We strongly believe that the quality management process and policies will add value and customer satisfaction.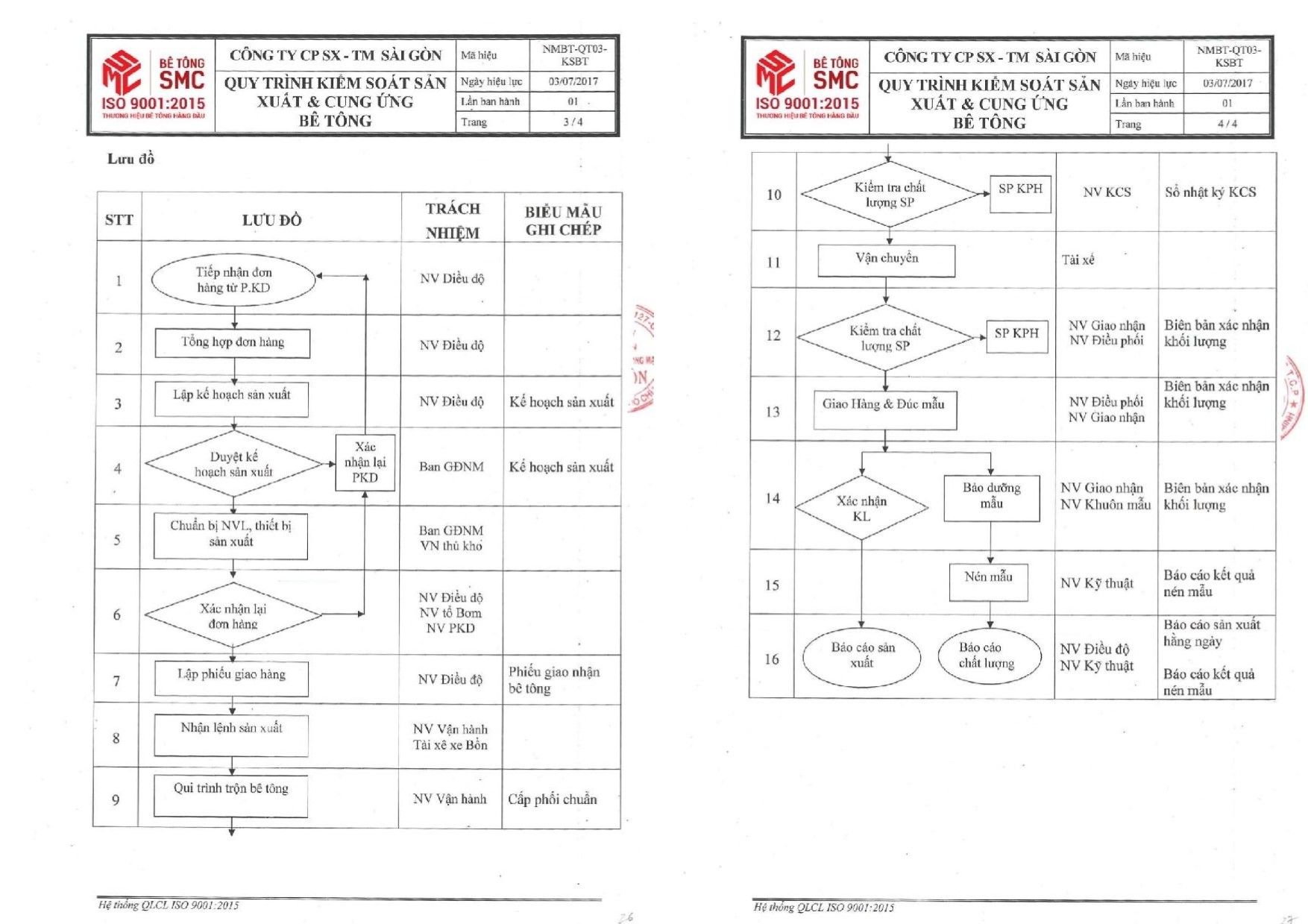 Environmental policy
As part of SMC's commitment to protecting the environment, participating in building a clean, safe future for the community. We are constantly improving the environmental efficiency and preventing pollution at the production facilities by:
Communicate our environmental policies and practices to all employees of our company and partners.
Minimize the amount of on-site manufacturing waste and recycle concrete.
Continuously improve environmental performance and control pollution from all activities, products and services.
Implement an environmental awareness program.
Identify, evaluate and seek to minimize the environmental impacts associated with the company's operations.
Train employees to ensure that they are aware of the company's goals and specific measures to be taken.
Provide the resources needed for the implementation and control of the environmental management system, including human resources and professional skills, technology and financial resources..