Bustling market of fresh concrete in Vietnam
In recent years, the image of commercial mixer trucks and concrete pump trucks (ready-mixed concrete, fresh concrete) with long rods appears increasingly popular in construction sites in Quy Nhon City.
Fresh concrete market is increasingly bustling.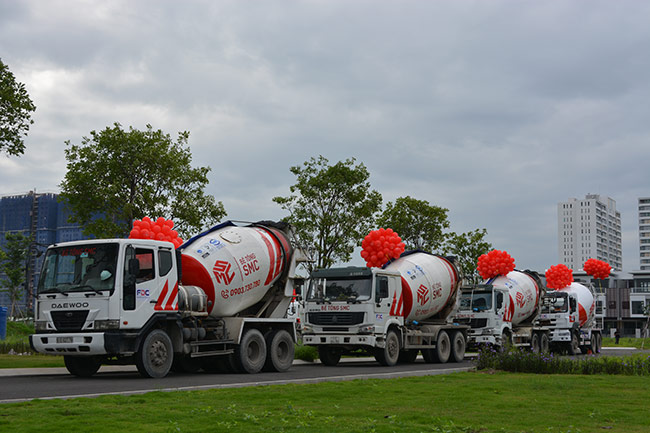 SMC concrete
Conquer customers
With many advantages, fresh concrete is increasingly used by many people to build houses.
Mr. Hoang Anh Tung, owner of a house under construction on Tang Bat Ho Street (Quy Nhon City) shared: "Fresh concrete grade 250 costs VND 1.2 million / m3, more expensive than conventional concrete about VND 200,000 / m3. .
In return, pouring with fresh concrete quickly, conveniently, noiseless, no dust, no waste area for gathering concrete mixing materials.
The workers are much less, but the time for anesthesia is 1-2 hours instead of one session.
Concrete mixing machine should be uniform quality, quick setting so 7 - 10 days later the dismantling of the formwork, no need to wait more than 20 days as before.
Shortening construction time is also a saving of construction costs ".
According to commercial concrete production enterprises in the province, in the past, their customers were mainly investors of large construction works, but in the past few years have been different.
Mr. Nguyen Ngoc Binh, Deputy Sales Director of Nhon Hoi Concrete Joint Stock Company, said: "In the past few years, 3 out of 10 builders chose commercial concrete, but now it has 7/10. People trust this product.
Customers of the company this year increased 20% compared to last year and now accounts for 50% of total customers.
Mr. Ha Van Hung, Sales Manager of Mekong Binh Dinh Concrete Co., Ltd., revealed that in the first time he entered Binh Dinh market in July 2016, the Company has targeted customers who are households, because This channel is effective, easy to spread and less expensive than advertising through other channels.
Good growth
According to the Department of Industry and Trade, from the beginning of the year until now, ready-mixed concrete products have increased sharply with the accumulated output as of October is estimated to be nearly 136.5 thousand m3, an increase of over 32% over the same period in 2016, thanks to market and stable source of input materials.
Mr. Nguyen Ngoc Binh further informed that, since Nhon Hoi Company came into operation in 2008, the average growth rate is about 20% per year.
Realizing the increasing demand, the Company invested VND 3 billion, increasing the plant's capacity from 90 m3 / hour to double.
Mr. Ha Van Hung said: "At the beginning of Binh Dinh market, the Mekong Company had difficulties but quickly overcome.
The number of customers increased rapidly.
Production also increased from 3,000 m3 / month in 2016 to 6,000 - 7,000 m3 / month ".
The companies have the same opinion, in the coming time, the market of fresh concrete will continue to flourish when the construction of tourism real estate, factories in industrial parks ... is more exciting.
The competition is also getting fiercer because more new businesses appear in the market.
If in 2003, only Phu Tai Concrete Co., Ltd. now has more businesses such as Nhon Hoi, Mekong, Fico, Petec;
with a total output of fresh concrete for the market of about 13,000 m3 / month.
To compete, companies focus on ensuring quality and improving services, such as building an ISO quality management system;
quality control of input materials;
investing in importing new and modern machinery;
serve whenever customers need, regardless of holidays;
meet the needs of each customer who wants to use concrete according to Vietnamese, American or European standards, wants to use bulk cement or cement ...
Ms. Nguyen Thi Yen, owner of a newly built mini hotel in Nguyen Van Cu Ward (Quy Nhon City), said: "This is the fourth project I built with commercial concrete.
Through use, I found the quality of fresh concrete to be trusted.
It is important to go to the factory to check materials, production processes;
request mixing is finished immediately for yourself;
A random batch of concrete may be sampled for independent verification if in doubt;
and need to pay attention to the terms of concrete compensation not guarantee the quality of the contract ".