The Western Capital apartment project
The Western Capital Complex has a construction density of only 34.5%, the design of allocating separate space to each Block creates a ventilation for each apartment.
Safety features, health protection and full utilities for residents of The Western Capital are focused on full investment.
Although not officially open, The Western Capital apartment has quickly impressed and attracted great attention from customers.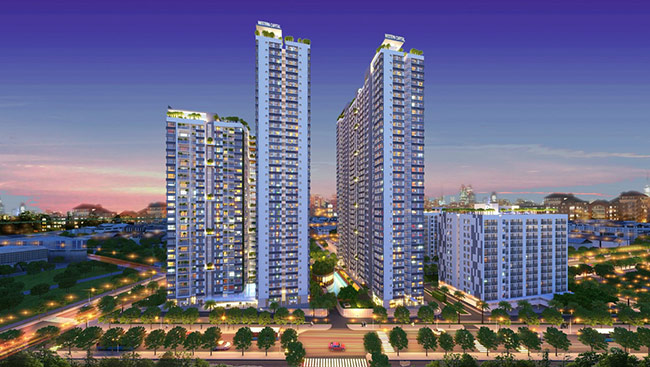 The Western Capital District 6 with the most unique architecture in the center, the lowest construction density, the apartments have harmonious and spacious designs that best meet the living needs of residents in the project.
Architects have studied every millimeter of width, width and depth of each building to both bring natural light, and create spaciousness, ensuring comfort for every space inside the apartment, with the plan to design the most optimal apartment space for the project, while overcoming the disadvantages of dividing the apartment ground according to the old path that many projects currently encounter, it is the lack of flexibility in the space. use, waste a lot of area without bringing any functionality to the homeowner.
Because of such meticulous research, the Western Capital Apartment premises are designed in an open-space style.
The space is divided into 3 main areas, including public area (with living room, kitchen and dining table);
service area (laundry room, storage room and toilet) and private area (bedroom).
Spacious feeling for public space.
The architects also cleverly divided the ground so that the public space is also a connecting corridor, so the bedrooms have direct access to the living room.
This design completely eliminates the area of ​​corridors and unnecessary nooks (dead corners), thereby, both expanding the common space and expanding the bedroom area.
Western Capital project is carefully invested to take care of every detail, keeping the existing greenery campus long time ago.
Owning apartments The Western Capital not only gives you a modern, ideal living space, enjoy a peaceful climate;
In addition, it is reasonable, modern features are introduced into each house to create the best living values ​​and top utilities to bring pride to every owner.
Along with that is the "5-star-price" strategy that goes against the market trend when the luxury apartment segment is increasingly expensive.
With a selling price of only 1.2 billion / 2-bedroom apartment and completed with 5-star luxury standard.
The apartment finishing items are used from prestigious suppliers such as American, Inax, Malloca kitchen, high-class wooden floors all bedrooms.
Along with up to 36-month interest-free payment methods, The Western Capital's "5-star affordable" apartment takes you from one surprise to another.
Republic Plaza Complex
Construction unit: Thuy Duong Duc Binh Trading Joint Stock Company
AEON Binh Tan Shopping Center
Đơn vị thi công : Obayashi - Vietnam Joint Venture
Thời gian xây dựng : đang cập nhật
Tổng sản lượng bê tông SMC cung cấp : đang cập nhật